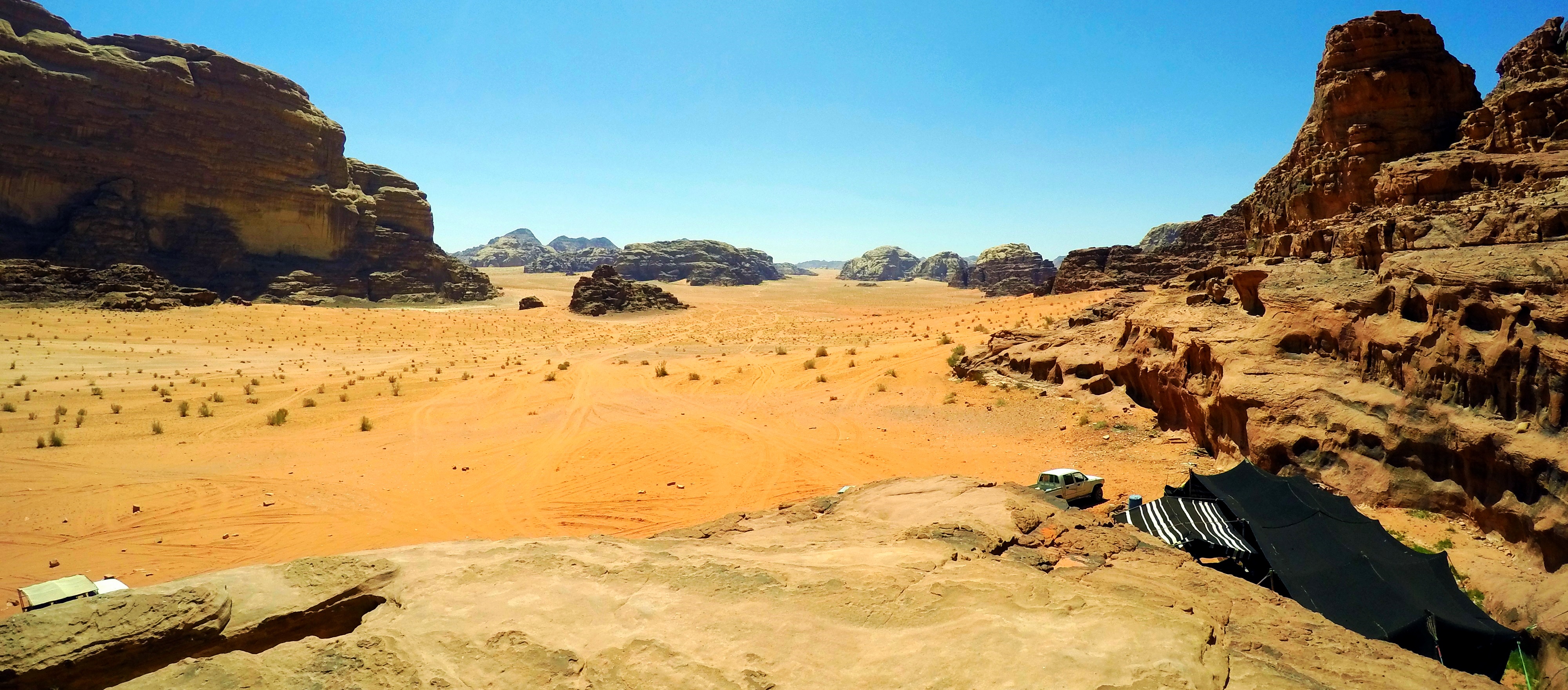 ---
Wadi Rum is a protected desert wilderness situated in southern Jordan, near the border with Saudi Arabia. It features dramatic sandstone mountains, natural arches, prehistoric inscriptions and carvings, canyons, dunes, natural watering holes, Bedouin encampments and needless to say heaps of sand. The summers in Wadi Rum are uncomfortably hot, whereas the temperature in winter can drop below zero after dark. The best time to visit Wadi Rum is in spring or autumn. The British archaeologist T.E. Lawrence earned his international fame as Lawrence of Arabia when he described the Wadi Rum desert vividly in his book "Seven Pillars of Wisdom". Be sure to watch the movie "Lawrence of Arabia" before you visit this fascinating desert. The Wadi Rum desert was also the backdrop of many other Hollywood movies like "The Martian" and "Transformers".
Nowadays there are still a few hundred Bedouin families who call the desert of Wadi Rum home. They move around the desert and base themselves in the vicinity of a watering hole for a period of time before they move on to their next location. I found it a very fascinating way of living!
Wadi Rum
The only way to explore Wadi Rum and to get the most out of this beautiful desert is by taking a tour. I chose for a 2 days / 1 night tour with Khaled. He's a very friendly and flexible guy with a beautiful camp in the middle of the desert. You can make your own itinerary or you can just sit back, enjoy the ride and let your guide show you the best spots of the desert. My jeep was already waiting for me when I arrived early in the morning in Wadi Rum village coming from Aqaba. Let's get this party started!
The Wadi Rum desert is stunningly beautiful! I couldn't stop glimpsing at the awe-inspiring desert landscapes from the back of my jeep. If you've seen the movie "Lawrence of Arabia" then you will recognize a few stops of the tour, like Lawrence's spring and Lawrence's house. You will stop at so many picture perfect stops along the way. The Bedouins who live in the desert have a very big heart and they always invite you for some Bedouin tea.
I had the privilege to have lunch with the family of my guide at their tent in the middle of the desert. Very fascinating to see how they manage to live in such a remote location. Arabs love their shisha. So, I didn't mind sharing a shisha with the father of my guide. So much fun!
Another fun thing you will do on this trip is sand boarding! Sliding down a sand dune with your board is just awesome!
We did a 3 hours hike at the end of the day where we saw some jaw dropping rock formations and naturally formed rock bridges. The views are very impressive. Well worth the sweat!
After a fantastic day in the desert we drove to Khaled's camp for dinner and some time to relax. Khaled has a viewing platform from where you can witness some of most beautiful sunsets you will ever see.
The Wadi Rum desert is an unique experience and by far one of the most fascinating desert of our world. An experience which will last for a lifetime!
Check out my Flickr album for more Wadi Rum pics!
---