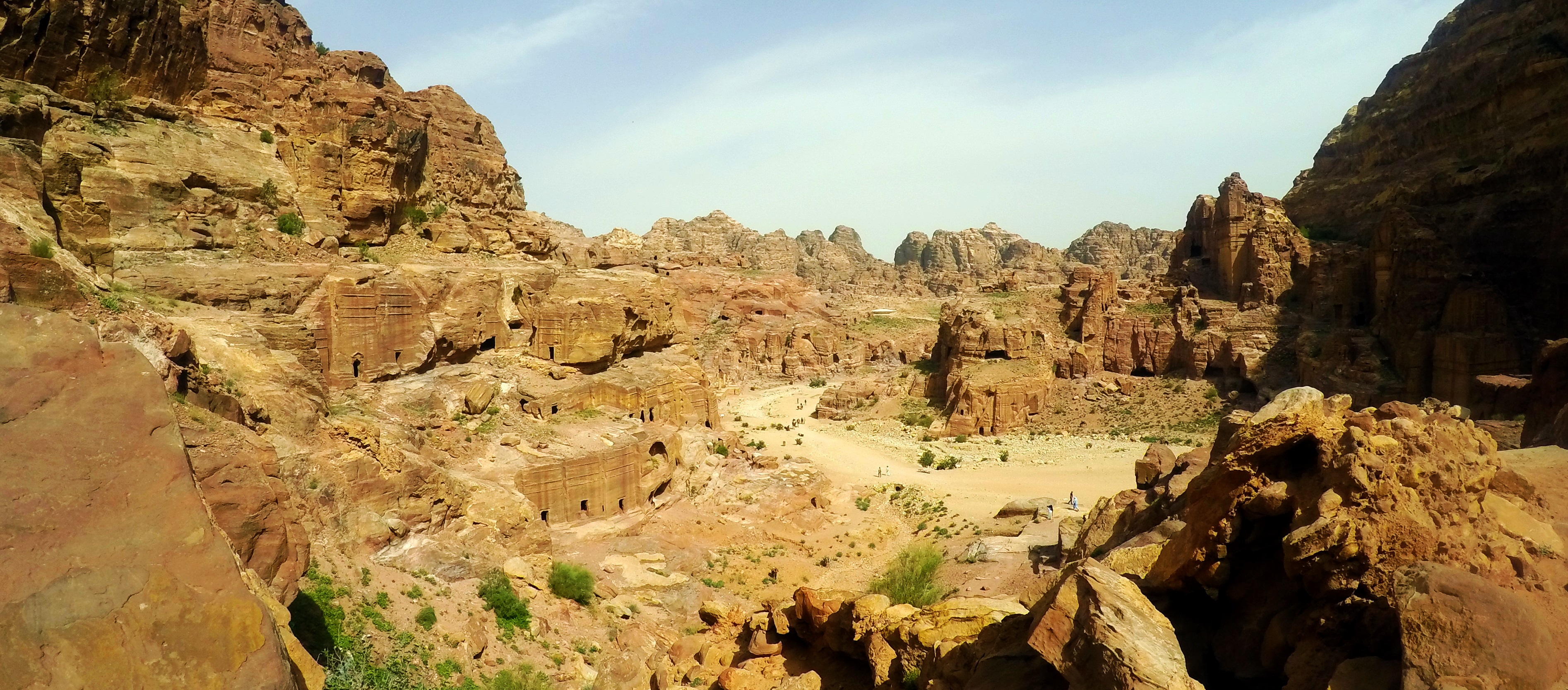 ---
The ancient city of Petra is a famous archaeological site in Jordan's southwestern desert. Petra is famous for its tombs, temples, churches and houses which are all carved into pink sandstone cliffs; earning its nickname, the "Rose City". It's Jordan's most-visited attraction and part of the New 7 Wonders of the World. Established around 300 BC and only discovered by the western world in 1812. The indigenous people (Bedouin) of Petra were nomadic Arabs who used this city as a major trading hub. Petra became an UNESCO World Heritage Site in 1985. The last indigenous Arabs slowly left Petra as the site became incredibly popular for thousands of tourists.
I stayed at Petra Gate Hotel in the small town of Wadi Musa which is just a few 100 metres away from the entrance of Petra. The hotel also offer lunch packages which you can bring with you to Petra. Very convenient as the restaurants inside Petra are touristy expensive. I only had 1 day for Petra which is way too short for this enormous site. Be prepared to walk and climb a lot if you want to get the most out of Petra. I had to squeeze everything into 1 day and doing so I ended up making 25 km to see the highlights of Petra. If you have more time I would advice to buy a multi-day ticket. Let me guide you through the fascinating world of Petra.
Petra
From the entrance of the site it's approximately 2 km until you reach the hidden city of Petra.
The canyon with its narrow vertical walls, which is called the "Siq", snakes its way towards Petra. If you feel tired you can hitch one of the many horse carriages.
The first glimpse on the 45m-high temple (The "Treasury") witnessed from the "Siq" is just breathtaking. It looks like 2 curtains are slowly revealing Petra's no. 1 treasure.
The "Treasury" is such an astonishing piece of craftsmanship. It's mind blowing to imagine how they were able to cut such a remarkable temple out of sandstone. Fascinating! It's the highlight of Petra and maybe even Jordan, but the site has many more brilliant master pieces.
The coachmen of the horse carriages all look like pirates. It's very interesting to see, but what's up with the Jack Sparrow look? I though that I would see a lot of Indiana Jones look-alikes, but I guess it's Pirates of the Caribbean nowadays, lol.
For some outstanding views hike the steep steps up to the "High Place of Sacrifice".
The second main highlight of Petra is the "Monastery" which is situated on top of a hill.
You can take a donkey up to the top, but I would advise to get up there in your own strength. It will be much more rewarding.
If you visit Petra on Monday, Wednesday or Thursday you can re-enter the site with an additional ticket to witness something truly spectacular: Petra by Night. Unfortunately I visited Petra in the weekend so I couldn't experience Petra by Night with my own eyes this time, but I'm sure I will be back one day! Here you can see how Petra by Night looks like.
With no doubt: Petra is a true New Wonder of the World! Let me know how you experienced Petra.
Check out my Flickr album for more Petra pics!
---