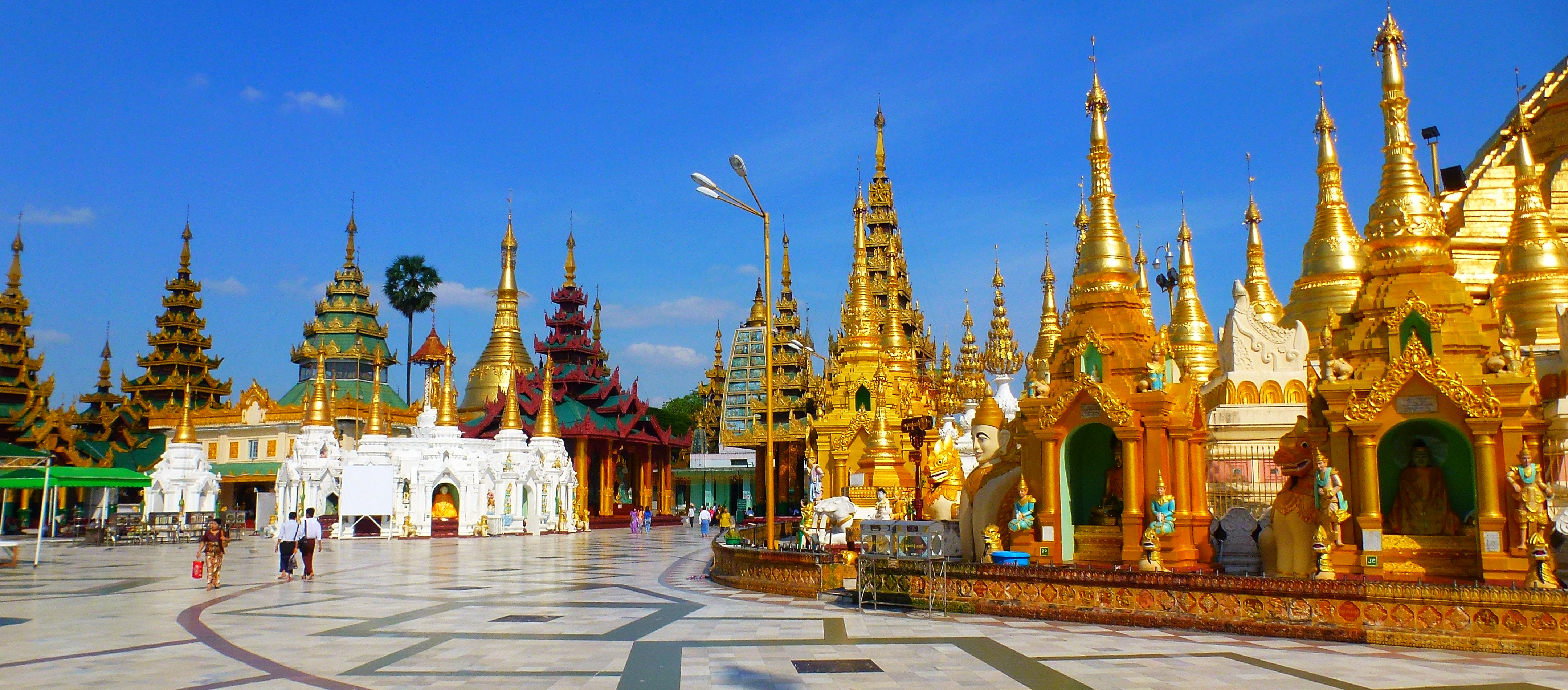 ---
Myanmar is a world apart. The country formerly known as Burma changed its name to Myanmar in 1989. It was one of the least visited countries of South East Asia due to its turbulent past and former visa restrictions. Nowadays more and more tourists find their way to this peaceful nation. Be prepared to turn back the clock and time-warp yourself back to the past. Myanmar is a country where the journey is often as interesting as the destination.
Facts
Capital: Nay Pyi Taw official; Yangon unofficial
Language: Burmese
Currency: Kyat (1 €  ≅ 1400 Kyat)
Population: 54.5 million
Size: 676.578 km² (16 times Holland)
Daylight saving time: No
Visas: Most nationalities need a visa beforehand, you can also apply for an eVisa
Best time to visit: Nov – Feb (dry season)
Visited: 2013
Yangon
I started my Burmese adventure in Yangon, which is the biggest city and economic hub of Myanmar. Until 2005 it was also the capital city of Myanmar before the baton was passed to the city of Nay Pyi Taw. Yangon is vibrant, dynamic, sweaty and steamy. I opted to stay at the Mother Land Inn hotel which was a terrific choice! The rooms are comfortable and the staff is extremely helpful. I had my first dinner in Yangon at a local restaurant, but when I returned to my hotel I knew something wasn't right. I started to feel weak and started to sweat heavily, more then I already did. I barely had the strength to take the stairs to my room which was on the first floor. The toilet bowl was my best friend during the night, I didn't leave it out of my sight. The next morning I knew I needed medicines, I never felt so weak and sick in my life. I tried to walk to the reception to ask for help, but halfway I started to feel very dizzy, everything turned black and I collapsed on the floor. The staff brought me back to consciousness and arranged a trip to the pharmacy. I got 3 different kinds of antibiotics and 3 days later I was the old me again. Wow, great start of Myanmar. But the staff of the hotel were so helpful, they came to my room a couple of times during the day to check how I was doing, they brought me food and water. Best hotel ever! After 4 days I was able to start my real Yangon adventure.
The stunning Shwedagon Paya is the centrepiece of Yangon and its shinny golden temples are visible from all over town. It's a fascinating complex of multiple temples and countless artifacts. The temples are even more magical at sunrise or sunset when the sunlight reflects on the many golden faces of the temples.
The Shwedagon Paya is the heart and soul of Myanmar and a very important Buddhist compound. The architecture is brilliant. Even though I'm not very religious; I felt a very powerful vibe while walking around the compound. There were not a lot of tourists, so it was quite easy for the locals to spot the tall white dude with its big feet. I felt like a celebrity for the day. The Burmese people are so friendly and they love to chat with you. I spend a half day chatting with my new Burmese friends about my life and their lives. Very interesting and a great insight into their culture.
Most men wear skirt-like longyi and so will you when you're going to visit a temple. It's very comfortable and much easier than a pants, also much more refreshing especially with Myanmar's sweating weather. Most women smother their cheeks with thanaka; a traditional yellow make-up powder.
I visited the nearby market with 2 newly made friends from the hotel. We found out that 1 of them, a Dutch solo traveler, was literary living 2 blocks away from my house in Holland. It's a small world after all!
From the backside of the market you can take a small long-tail boat to the other side of the river where you can visit a traditional village. Yangon is interesting, very interesting and very different from the other capital cities in South East Asia. It feels like you stepped back in time.
The streets of Yangon are lively and you will see many interesting things happening right in front of you. Would you like to get a tattoo on a plastic chair alongside a busy street? Anything is possible in Yangon!
It's great to explore Yangon by bike, just forget about the heat. It's the best way to really feel Yangon and absorb all of its fascinating culture.
Due to the fact I got sick I had to cut my Myanmar-trip short. Unfortunately I had to cancel Inle Lake on this trip. From Yangon I took the nightbus to Bagan instead. You can read here about my adventures in Bagan.
Mandalay
I arrived in Mandalay with the bus from Bagan. During my 3 nights in Mandalay I stayed at the Royal Guest House  which I can really recommend. Oh wow Mandalay, Mandalay. The city is booming, but once you get out of the city you will feel its timeless- and peacefulness. My friend recommended me a local tour guide for Mandalay and its surrounding region. So I teamed up with a German fellow traveler for a trip around Mandalay and beyond with our recommended guide. I'm not a big fan of guided tours, but this was one of the best guides I experienced during all my years of traveling. Mainly because he didn't have its own transport, we were using the local public transport system, which makes it very easygoing. My style! We used local pick up vans to reach the surrounding sights. If the pick up van is full you will get a 'seat' on the roof, pretty refreshing!
We visited a monastery which gave us a great insight into the day to day life of a monk. An interesting experience. Monks have an enormous amount of discipline and determination.
Monks are greatly respected among everyone. We joined the monks for a lunch and our guide told us some interesting stories of why these boys / men chose to become a monk.
After an enormous lunch we continued to the world's longest teak bridge at 1.2km. It started to rain so we skipped the part of catching a long-tail boat and waiting for the sunset to kick in to get that classic shot of the sun going down behind the long teak bridge. A postcard perfect shot of Mandalay and Myanmar. But not for me this time.
We visited more temples and a village where they make huge pots. You will see women here marching between villages with 3 pots on their head and 2 pots in each hand; very impressive. I was not even able to control 1 pot on my head without my hands. Wow, what a great guided trip it was! Back to Mandalay.
I flew out of Mandalay with Air Asia. There's a free Air Asia shuttle bus between central Mandalay and the airport, very convenient! Myanmar is fascinating, unique and pure. Nowadays it gets easier and easier to arrange a visa for Myanmar, so wait no longer and indulge yourself into beautiful Myanmar!
Check out my Flickr album for more Myanmar pics!
---