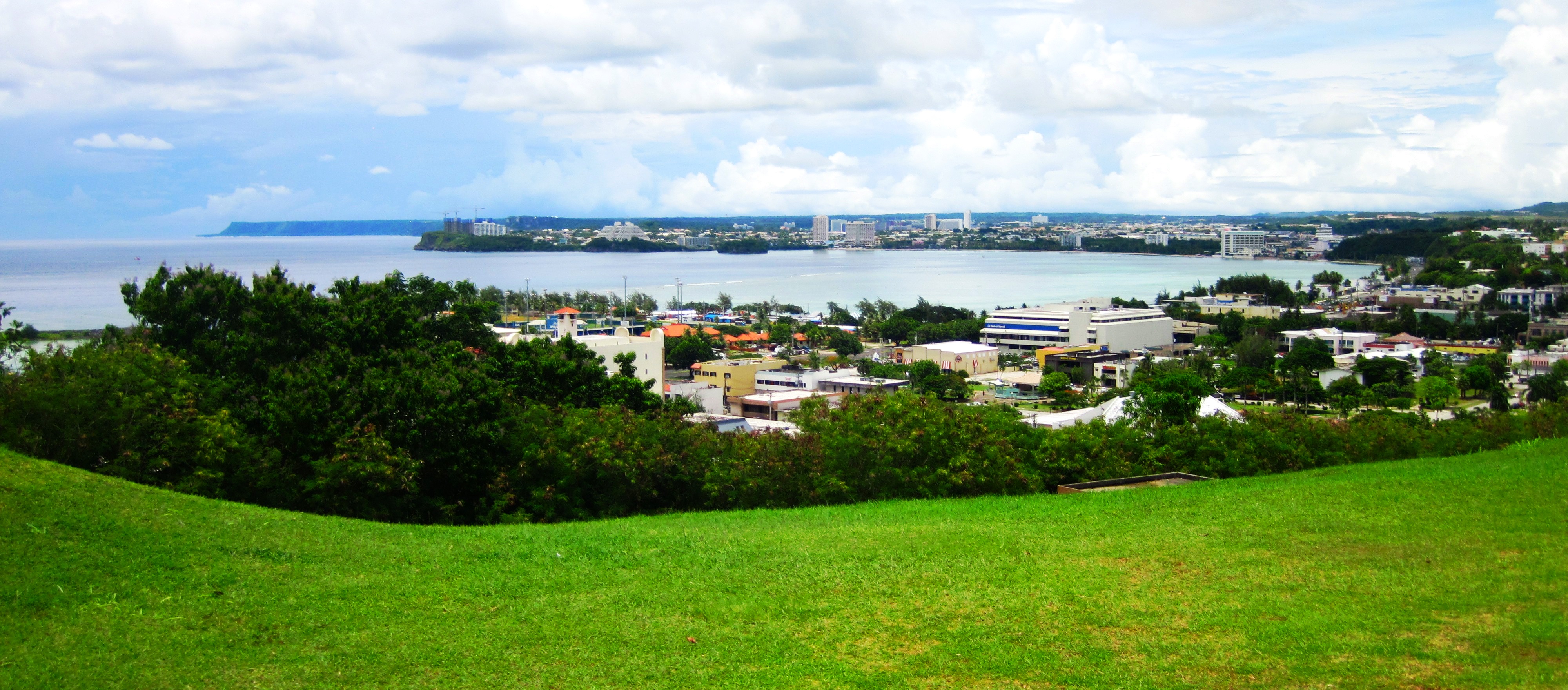 ---
The beautiful island of Guam is an U.S. island territory in the western Pacific. It has tropical beaches, Chamorro villages, ancient latte-stone pillars, memorials from World War II and a significant Spanish colonial heritage. Due to its location Guam is a popular stopover for Korean, Chinese and Japanese tourists en-route to other parts of the Pacific, Australia or the USA. Continue reading to find out how I ended up shooting guns in Guam!
Facts
U.S. Island Territory
Capital: Hagåtña
Language: English, Chamorro
Currency: US Dollar (1 €  ≅ 1.1 USD)
Population: 170.000
Size: 549 km² (2,5 times Amsterdam)
Daylight saving time: No
Visas: USA visa / waiver required
Best time to visit: Jan – May (dry season)
Visited: 2011 (part of Pacific trip)
Guam
The island of Guam was my first stop in the Pacific after I rounded up my South East Asia trip. I flew in from Manila, Philippines which didn't go very smooth. The level of security at the airport for flights to the USA was pretty high. The screening took forever and the amount of questions I had to answer for my reasons to visit Guam were never ending. Welcome to the USA! South East Asia felt like a breeze compared to the entry procedure for the USA. Tip: book your flight out of a specific island before you want to enter that island, because the immigration department always want to see proof that you're planning on leaving the island. After a 3-hours' flight I set foot in the USA again, well the USA on the other side of the Pacific. Guam felt like a mix of Asia and the USA; the same can be said about the population of Guam which is a mix of American Caucasians, Chinese, Japanese and Filipino's. You will see a lot of Japanese tour group minibuses roam the streets of Guam in a very fast pace. Most people speak some Japanese on the island and all the menus are written in English and Japanese.
I chose the village of Tumon as my base to explore the island. Unfortunately I only had 1 full day in Guam, so my time was limited to explore this island. Tumon beach is where you can find all the big hotel chains. It's a nice stretch of beach, although it can feel a bit touristy. Spain used to rule Guam and you can still find in the village of Hagåtña a lot of ruins which are part of Guam's Spanish heritage. Two Lovers Point can't be missed when you visit Guam. It's not only the site of Guam's most famous legend, but also one the best places to really see the beauty of Guam.
Gun ranges dominate Guam. I saw so many places on this small island where you can shoot guns. Time to give it a try! I chose Western Frontier Village for some fun with guns. When I entered the shooting club I though that I ran into a Hollywood movie set. The wall behind the counter was filled with handguns, revolvers, shotguns, riffles and tons of other powerful guns. I selected a few guns and made my way to the shooting range. Safety glasses; Check! Hearing protection; Check! Bullets; Check! Ready to shoot; Check! The first gun with which I was going to shoot was a revolver. The adrenaline rushed through my body; I'm going to shoot with a real gun! The target moved to its position, I placed my finger on the trigger and aimed the revolver towards the target. I pulled the trigger…..and….BANG! I missed. Wow, such a loud and powerful shot! I could hear and feel the shot echo around the range for a few more seconds. I shot the revolver a few more times, this time I was able to hit the target though. The next gun I shot was a magnum. The bullets and guns are getting bigger and due to this also the bangs and recoils. The last gun I shot was a shotgun, the most powerful one I shot. I put the shotgun against my shoulder, aimed and pulled the trigger…..BANG! The bullet exploded into smaller pieces. My shoulder was pushed backwards due to the powerful recoil of the shotgun. I had to find my balance again. Wow, what a power! Such a great experience!
It's time for dinner! After spending several months in Asia I'm back in the USA. I couldn't resist myself that night, I had to treat myself on some greasy junk food. And I must say; that juicy, tender, dripping, steaming, sappy hamburger tasted heavenly after months of living on rice and noodles.
After a short visit to Guam it was time to continue my Pacific island hopping adventure, next stop: Saipan!
Check out my Flickr album for more Guam pics!
---