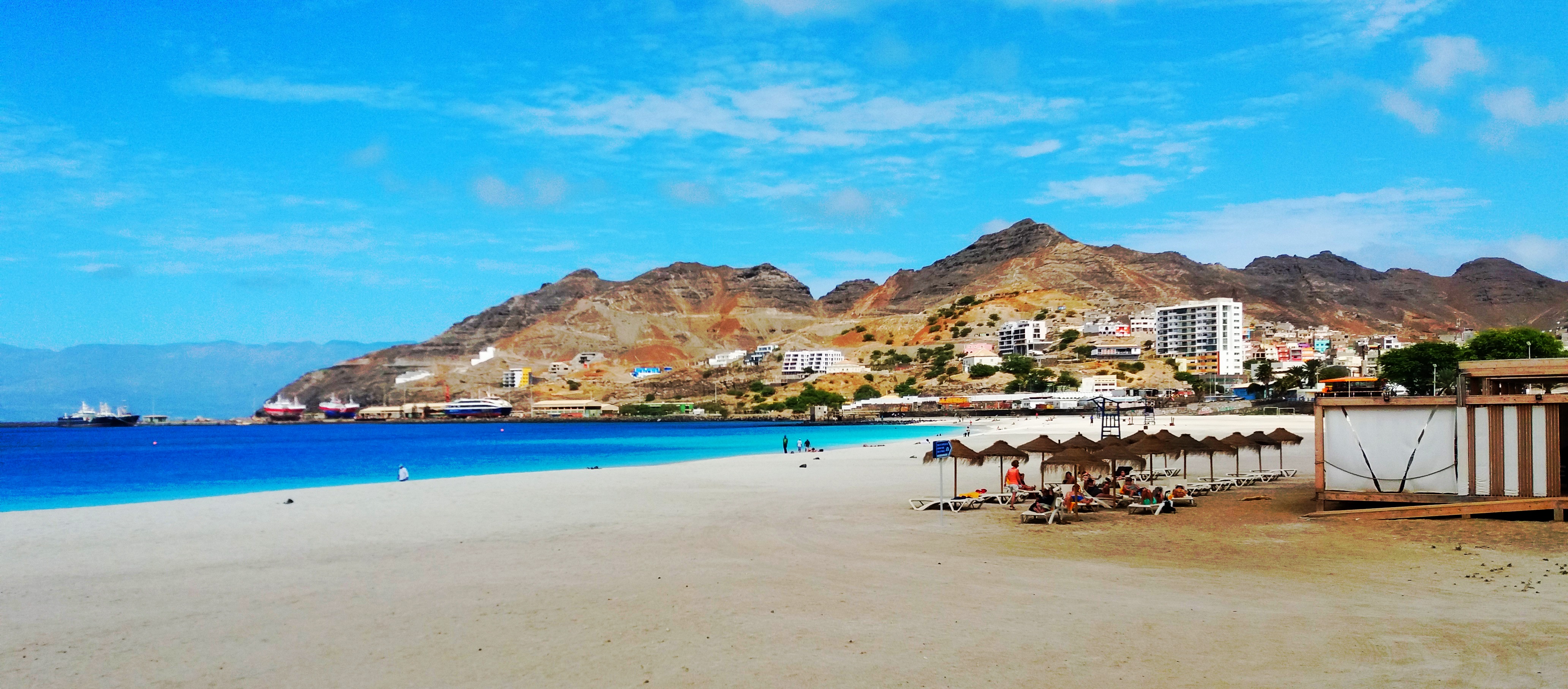 ---
Cape Verde, or Cabo Verde, is a volcanic archipelago off the northwest coast of Africa (off the coast of Senegal to be precise). Cape Verde was a Portuguese colony until its independence in 1975. It's known for its Portuguese-African culture, traditional music, numerous beaches, kite-surfing spots and hiking trails.
Facts
Capital: Praia
Language: Portuguese
Currency: Escudo (1 €  ≅ 110 CVE)
Population: 530.000
Size: 4.033 km² (1/10 of Holland)
Daylight saving time: No
Visas: Required for most nationalities, visa on arrival available at the islands of Sal, Boa Vista, São Vicente and Santiago
Best time to visit: Feb – Oct
Visited: 2017
The archipelago of Cape Verde consists of 10 islands and several islets. Due to its location the weather is pleasant all year round and it's therefor a popular getaway for Europeans during their wintertime. You can reach Cape Verde in 6,5 hours from Amsterdam for only €250 round-trip with Transavia. Pretty cheap if you ask me! Let me give you a quick summary of the islands and its highlights:
Santiago:  Has a little bit of all the other islands as well as the capital; Praia
São Vicente: Cultural centre of Cape Verde
Santo Antão: Hiker's paradise
Fogo: Home of the active volcano Mount Fogo
Sal: Beaches and great for kite-surfing and windsurfing
São Nicolau: Fishing, agriculture and beaches
Brava: The smallest and greenest inhabited island of Cape Verde
Maio: Beaches and large forest
Boa Vista:  Beaches and great for kite-surfing, windsurfing and diving
Santa Luzia: Inhabited island off the coast of São Vicente
I've visited the following 3 islands on my recent trip to Cape Verde:
Sal
If you fly into Sal I recommend to not get your visa in advance in your own country. The line for a visa on arrival (€25) is way shorter than the regular line of the immigration of Cape Verde. The island of Sal is pretty popular among package tourists and you will find plenty of resorts here with Melia Dunas Resort being one of the most luxurious ones. I opted to stay at Hotel Central Sal; located in Santa Maria which is the tourist village of Sal. It's all about kite-surfing and windsurfing here. If you never tried it before I highly recommend to give it a try. It's so much fun! Transport on the islands of Cape Verde can be a bit tricky if you don't want to pay for expensive taxis. The most common form of local transport are the aluguers or colectivos (shared minibuses). It's a cheap way to get around the islands, but you have to be flexible as they don't have a time table.
Besides kite-surfing, windsurfing, diving, sunbathing and an island tour there's not much else to do on Sal, but it's good enough for 2 days.
São Vicente
From Sal I took a domestic flight to Mindelo which is located on the west coast of the island of São Vicente. It was Valentine's Day and the flight attendants gave us all a T-shirt of the airline. Great gesture! I stayed at Simabo's Backpackers' Hostel which was a great choice. It has one of the cheapest private rooms of Mindelo. But if you don't like dogs and cats you should look further. This hostel is a volunteers' house for abused street cats and dogs. The Italian owner of the hostel is a lovely woman who takes good care of the animals and her guests. I met some great people in the hostel with whom I explored the city of Mindelo.
The waterfront is a great place to start. You will find here plenty of yachts bobbing around in Mindelo's peaceful harbor. The city centre has many candy-colored colonial buildings, cultural shops and exhibitions. It also has some cool bistros and bars with live music. For me food is really important, I can't leave a country without trying its national dish. For Cape Verde this is Catchupa, it's a type of stew consisting of mashed maize, onions, meat, potatoes and egg. I love it!
The primary beach of Mindelo, Praia de Laginha, looks very pretty during the day. The Caravela bar at the northern edge of the beach is a good spot to see the sun going down behind the hills. It makes a perfect sunset!
From Mindelo you can take the ferry to the island of Santo Antão which you will reach in 1 hour. Here you will find the timetable of the ferry companies.
Santo Antão
The island of Santo Antão is a real hiker's paradise! It's Cape Verde's most spectacular island. I wrote a separate post about the island's most popular hiking trails which you can read here.
So, that's it, a quick guide to the islands of Cape Verde, a stunning archipelago in the Atlantic ocean!
Check out my Flickr album for more Cape Verde pics!
---