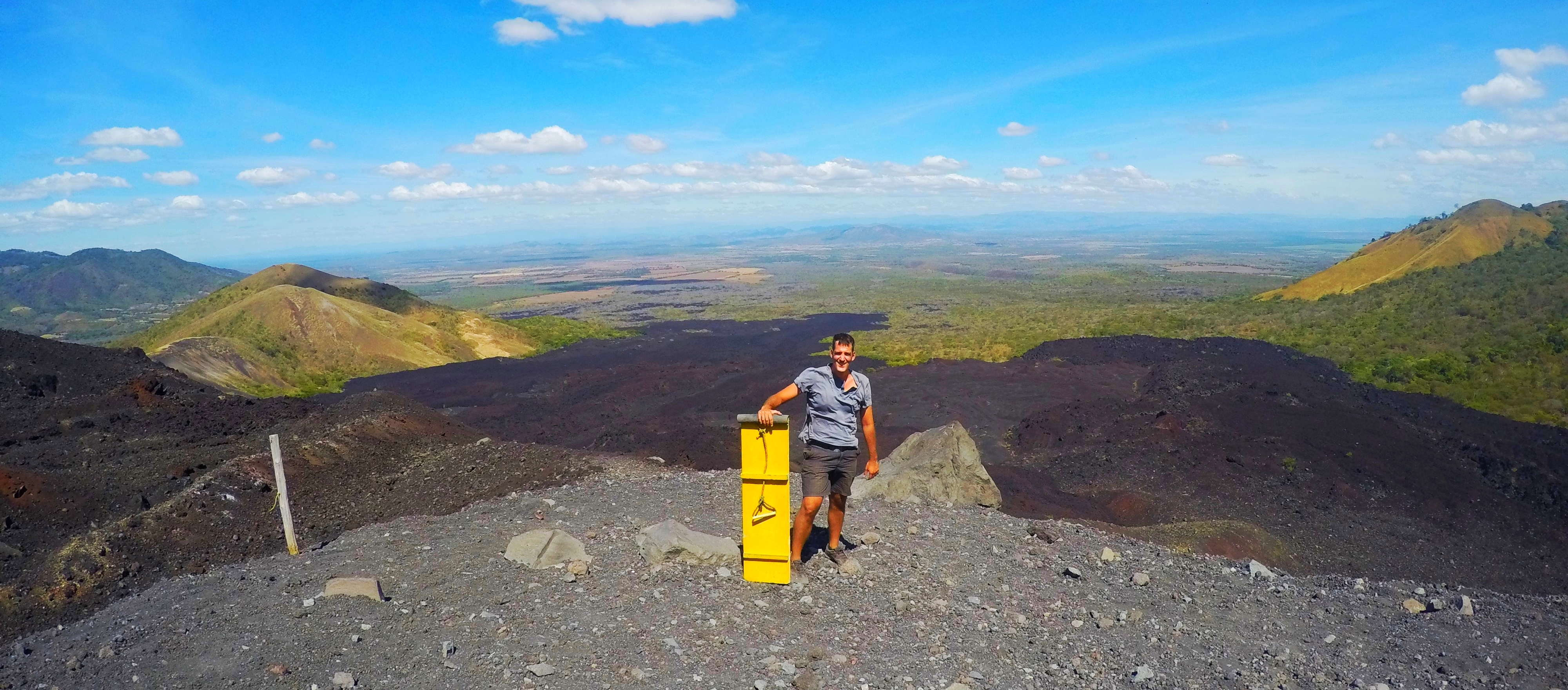 ---
The best one-day trip out of León, Nicaragua is volcano boarding down the Cerro Negro. There are dozens of little tour companies with whom you can book this crazy fun trip. I did mine with Quetzaltrekkers; one of the best in town! It's the only all non-profit tour operator in Guatemala. Your money goes directly to supporting schools and homes for street children. You will get a full day of fun and you can help the street children of Guatemala at the same time; I call that double the action and triple the excitement!
Volcano Boarding
You will start your trip at the office of Quetzaltrekkers in León with a group of like minded crazy individuals who want to speed down an active volcano; why? Because we can! It's a 50-minute drive in the back of a pick up van to the base of the Cerro Negro (Black Hill).
Here you will get a bag full of protective clothing and your small wooden sled. The wooden board will be strapped to your back and you're ready to ascend the black mountain of loose rock. The hike up lasts about 45 minutes and you will be rewarded with awesome views along the way.
You're walking on a steaming natural oven underneath the burning sun, so be prepared to sweat a lot. When you're getting near the top of the volcano the wind is getting pretty strong; hurricane style!
With your board strapped on your back it's difficult to maintain your balance. Your board is acting like a big sail which wants to blow you off the hill! Face the wind and you will make it to the top.
Take a minute to stand still and absorb the beautiful nature and landscape that surrounds you. It's remarkable!
And now the fun part starts! Put on your jumpsuit, safety goggles, gloves and bandana face mask. Make a selfie and prepare to get dirty! You can either stand or sit down on your board. Sitting down is much more successful and you will go way way faster!
The slope is much steeper and longer than I first thought. Oh well, there's only 1 way down so off we go! The boards have a rope in front which you can pull and lean back for full speed. Stability is a bit of a problem with these narrow boards or am I just to big for these tinny sleds? I used my feet and hands for some extra stability.
Use your feet as brakes; the deeper you put your shoes in the sand the more you slow down. Don't do this at full speed or you will tumble down the hill like a snowball. I learned that the hard way. I wanted to go as fast as possible, I wanted to become The Flash!
Small rocks were kicked up onto my goggles as I was racing down the hillside. I went too fast and lost control! I launched forward and rolled over a few times until I came to a stop. Volcanic rocks and ash were all over me; in my shoes, my face, my hair and even in my underwear. How did it get there!?
Volcanic rocks are not so forgiving as sand or snow. Luckily I worn my protective clothing otherwise it would have been much worse! I located my board and continued my way down the hill. That was fun as hell! I want to go again! And that was possible!
With a smaller group we hiked back up and did it all over again! Back down the hill we had some delicious veggie burritos. After the lunch it was time to head back to León. Back in my hostel a well worth refreshing shower was waiting for me. But even after the shower volcanic ash came out of my nose and ears for days! But all so worth it!
Check out the below video footage of the race downhill!
Volcano boarding was the activity highlight of my trip in Nicaragua and it will only cost you $30. Highly recommended! A must-do of any trip to Nicaragua!
Check out my Flickr album for more Cerro Negro pics!
---