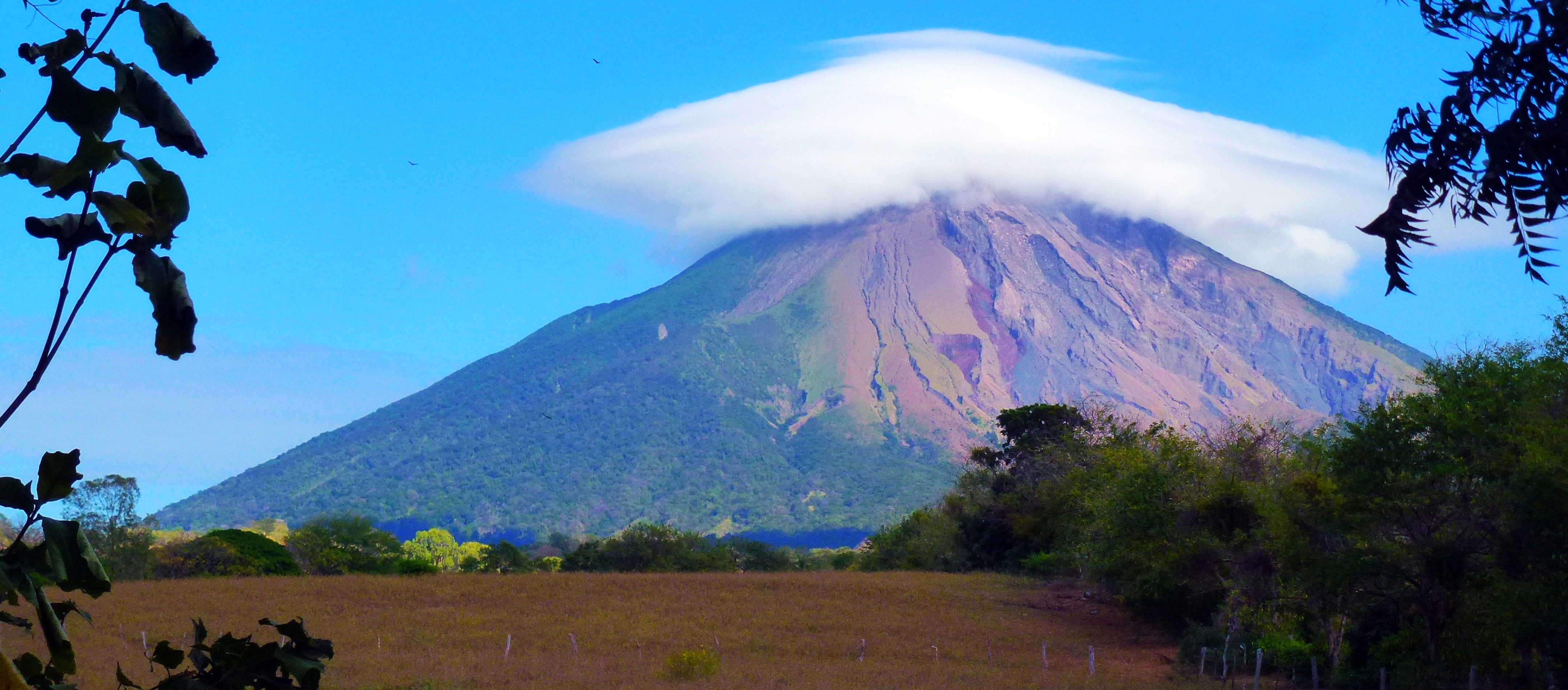 ---
Beautiful Nicaragua stretches from the Pacific ocean to the Caribbean sea with ton of fascinating landscapes in between. It is known for its dramatic terrain of lakes, volcanoes and beaches. The locals are friendly, the food is great and Nicaragua has some of the best-preserved colonial towns of Central America. I fell in love with Nicaragua as soon as I had set foot into this nation. It has everything you could ask for in a tropical paradise. Keep reading to find out which 3 places you can't miss on a trip to Nicaragua.
Facts
Capital: Managua
Language: Spanish
Currency: Nicaraguan Córdoba (1 €  ≅ 30 NIO)
Population: 6.1 million
Size: 130.375 km² (3 times Holland)
Daylight saving time: No
Visas: Not required for most nationalities
Best time to visit: Nov – April (dry season)
Visited: 2016 (part of Central America trip)
León
I entered Nicaragua by bus from El Salvador. After a long and bit uncomfortable bus ride we arrived early in the evening in León. This city is the fieriest and most passionate city I encountered in Nicaragua. It has awe-inspiring churches, stunning streetscapes and cosmopolitan eateries. As the saying goes: many people fall in love with Granada, but most of them leave their heart in León.
I stayed at Flamenco's hostel which is just a few blocks from the main square. The vibe in León is very pleasant, it feels more real and authentic than Nicaragua's top attraction Granada. The nightlife in León around the bigger hostel chains is pretty happening. The local beer of Nicaragua, Toña, is one of the best ones out there in Central America, and trust me I had a few to compare with 😉 The local beer of Costa Rica, Imperial, remains my personal number 1.
Just out of León, more than a dozen volcanic peaks wait to be climbed or surfed. For me one of the main reasons to visit León was to go volcano boarding down the nearby Cerro Negro. I wrote a separate post about my race down this active volcano which you can read here.
From León I took the minibus to Granada which is easily reached in about 3 hours.
Granada
The spellbinding colonial town of Granada is Nicaragua's number 1 attraction. It drips with photogenic elegance, a picture postcard around every corner. Granada is a very pleasant town although it can feel a bit touristy, especially around the main square where heaps of horse carriages are waiting for you to show you around town.
Granada has ton of beautiful colorful churches with the church of San Francisco as the most striking one. You will see this yellow colored church on almost every postcard from Granada and Nicaragua.
To get a great bird's eye view on the church of San Francisco you have to climb the small staircase of the Iglesia de La Merced. The sights of Granada can easily be ticked off in a day.
From the busy market I took an over crowded bus to Rivas from where I shared a taxi with a group of fellow travelers to the dock where the boat to Isla de Ometepe was waiting for us.
Isla de Ometepe
I reached the island of Ometepe in 1 hour by a rambling ferry which connects the mainland (San Jorge) to Moyogalpa. The island which is famous for its twin volcanic peaks lies in the centre of a lake (Lago de Nicaragua).
When you walk from the dock into the small town of Moyogalpa you will pass by plenty of restaurants and hotels. On top of that there are plenty of hotel owners scattered around the main streets looking for new customers. So, it's definitely not necessary to book a hotel beforehand.
Ometepe is a very pleasant island where you can forget your every day stress. Everything goes here in a slow pace and you feel directly the friendly and easy vibe of the local community. I rented a motorbike for the day to explore the island.
You will pass by many beautiful beaches where horses are gazing in front of volcanoes. An incredible sight! I even sneaked into an abandoned airport which was not in use anymore. The first time in my life I could freely walk onto a runway!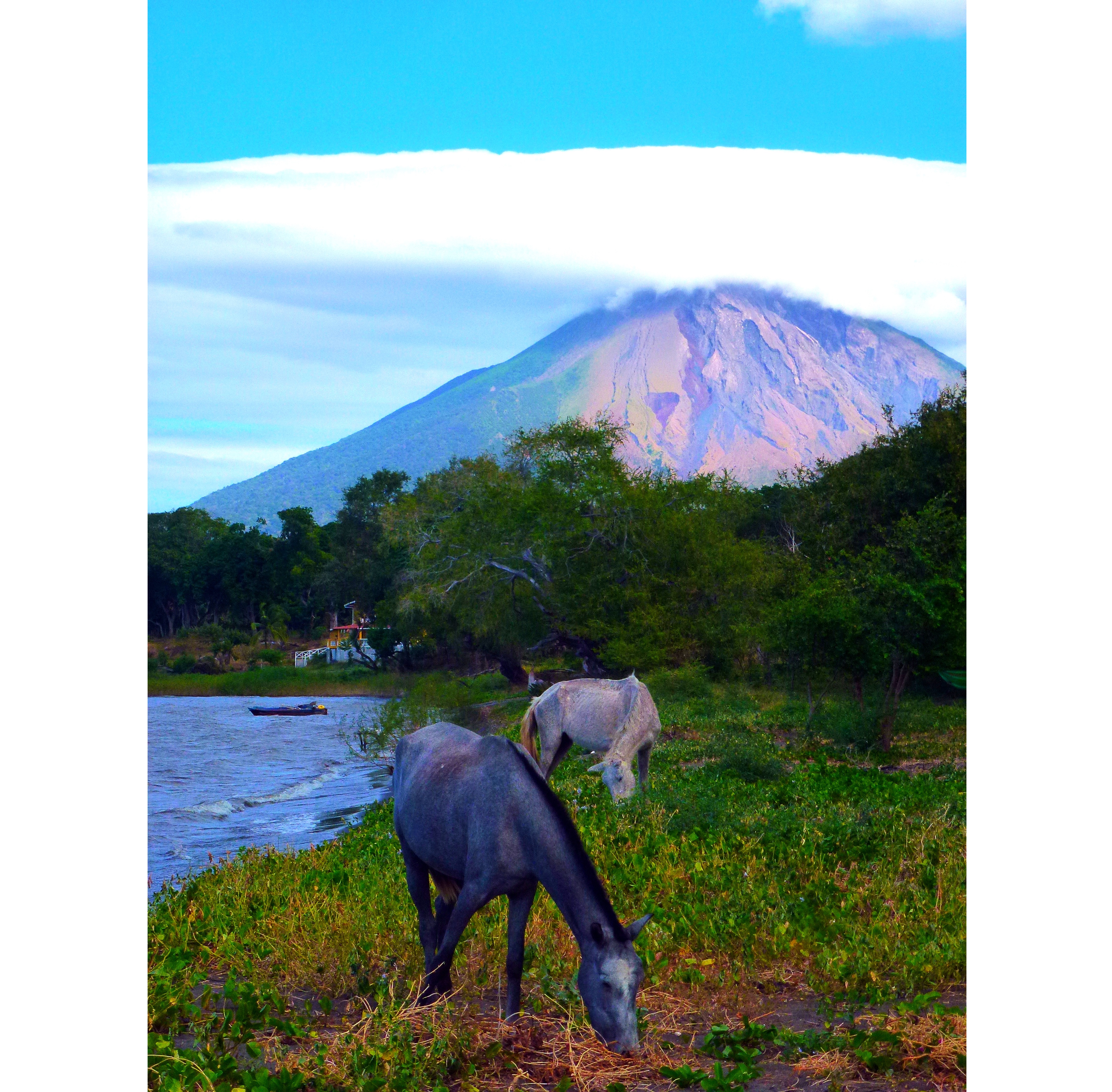 One of my favorite beach on the island is Playa Santo Domingo, a very peaceful stretch of beach with a volcano in the background. There's also plenty of hiking to do on the island, one of those hikes will lead you all the way to the summit of one of the volcanoes.
After a few days enjoying this peaceful island it was time to take the ferry back to the mainland and continue my journey towards the border of Costa Rica. From Rivas I took the 45min bus to Peñas Blancas, the border town of Nicaragua. When I got off the bus I thought I arrived at the entrance of a high security prison. I was the only white guy on the bus so an easy pick for people who want money from you. Three very aggressive locals were shouting at me and they were blocking my way to the border of Costa Rica. They wanted to grab my backpack and demanded to hand over my passport to them. Passport! PASSPORT! NOW! They didn't want to let me go and I was only 200m away from the border. I looked into their eyes and I could see so much aggression in their eyes. I was afraid that 1 of them would grab a knife or a gun. So, what to do now? I felt a bit heroic that day, so I pushed them all away (it's always handy when you're tall) and ran towards the border. Running with your 12kg backpack with 3 crazy locals chasing you is not the best start of a day. But I made it! I showed the guard at the border my passport and I entered Costa Rica! The 3 crazy locals were not allowed to enter Costa Rica, lucky me. Off to a new adventure in Costa Rica!
Check out my Flickr album for more Nicaragua pics!
---