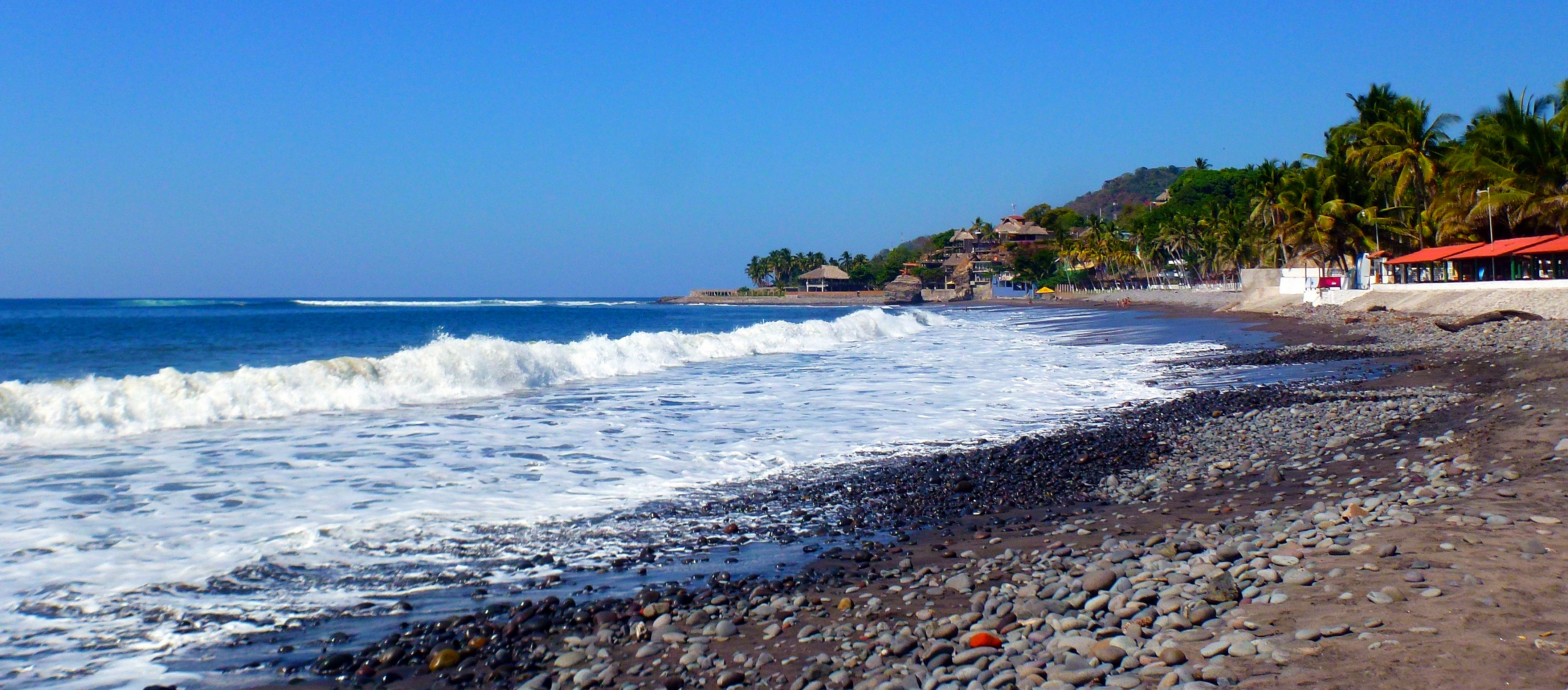 ---
El Salvador is the smallest and the most densely populated country in Central America. Its shoreline is famous for wicked surf-breaks and many surfers stay here much longer than expected. The Pacific ocean is heaven for surfers and you can find awesome surf spots along the entire Pacific coastline of Central America! Similar as Honduras; also El Salvador has a bad reputation with regards to crime and poverty. But El Salvador still has a lot to offer, so please don't get scared of its bad reputation. If you use common sense you will not get into trouble.
Facts
Capital: San Salvador
Language: Spanish
Currency: US Dollar (1 €  ≅ 1.1 US$)
Population: 6.1 million
Size: 21.041 km² (½ of Holland)
Daylight saving time: No
Visas: Not required for most nationalities
Best time to visit: Nov – April (dry season)
Visited: 2016 (part of Central America trip)
San Salvador
So, I entered El Salvador with the bus from Guatemala City which is a pretty long ride. Border towns always have a certain atmosphere and the two towns at the Guatemala – El Salvador border are not much different. Money changers, guards, homeless people, seedy bars and prostitutes, all walk side by side. I continued with the bus to the capital of El Salvador, San Salvador.
I arrived late at night and took a taxi to my hotel even though it's only a 15 minutes walk. Normally I always walk or take public transport; I seldom use taxis, but with San Salvador I took some precautions. My first impression of the capital was at least to say not jolly good and this feeling didn't change much the next day. San Salvador is polluted, dirty and has a huge number of homeless people. It was one of the few times in my long backlog of travels that I felt unsafe while walking the streets at night time, so I didn't do much after dark. Maybe my hotel was just not in the best area of the city.
I spent the next day with ticking of the highlights of the city; churches, parks and squares. It was Sunday and it felt like I was the only one in town.
If you're into art then there are some pretty good art museums in San Salvador! Check out Museo de Arte de El Salvador for the best collection in town.
The next day it was time to head to the coast, but not before I rounded up being 'interviewed' by a group of high school students who wanted to practice their English; always fun and it reminded me of when I was teaching English for a short period in Sumatra, Indonesia in 2011. I took a taxi to the bus station that serves the coast and within 45 minutes I arrived with a minivan at the small town of El Tunco.
El Tunco
I stepped out of the bus and it felt immediately good, relaxed and laid-back. Yeah, this is my kind of place! I stayed at Tunco Lodge which was an awesome choice! The place has a kick-ass swimming pool, restaurant / bar and lounge area. It's a perfect spot to meet fellow backpackers and surfers. You definitely need a swimming pool, because El Tunco is hot, very hot!
The following days were spent with chilling, picking up my surf 'skills', eating, drinking and watching sunsets. Sunsets here are epic! El Tunco is a great place and I highly recommend to take a break here when you are travelling through Central America.
It's party time for the San Salvadorians during the weekends in El Tunco, so this would be the best time to visit this surf town. After bringing my mind and body in peace it was time to move on.
The next country I wanted to visit was Nicaragua. To get here from El Salvador you have 2 options: by bus or by boat. The minibus drives to the east, then a bit through Honduras before it arrives in Nicaragua. This route will cost you 2 extra stamps in your passport. The other option is by boat from La Union, but it's better to arrange this transport in El Cuco. La Tortuga Verde (ask for Cesar) offers these boat transfers + minibus from El Cuco to La Union. It's not an official border crossing so it feels like you are shipwrecked when you arrive on shore in Nicaragua. You will just walk from the beach to an office to get your Nicaraguan stamp.
For me crossing by boat would be much more fun as it's just awesome to arrive in a new country by boat and stranded on a beach, but when I was arranging this from El Tunco it felt like it wasn't going to work. You need time in El Cuco, because La Tortuga Verde only does the boat transfer when they have enough people, so this can take a few days. Also it's pretty expensive, it will cost you much more than a minibus from El Tunco straight to Leon, Nicaragua. When you do the boat transfer you have to arrange your own transport from shore to Leon.
So, the boat transfer looks nice on paper, but I opted for just taking a minibus to Leon, Nicaragua!
Check out my Flickr album for more El Salvador pics!
---