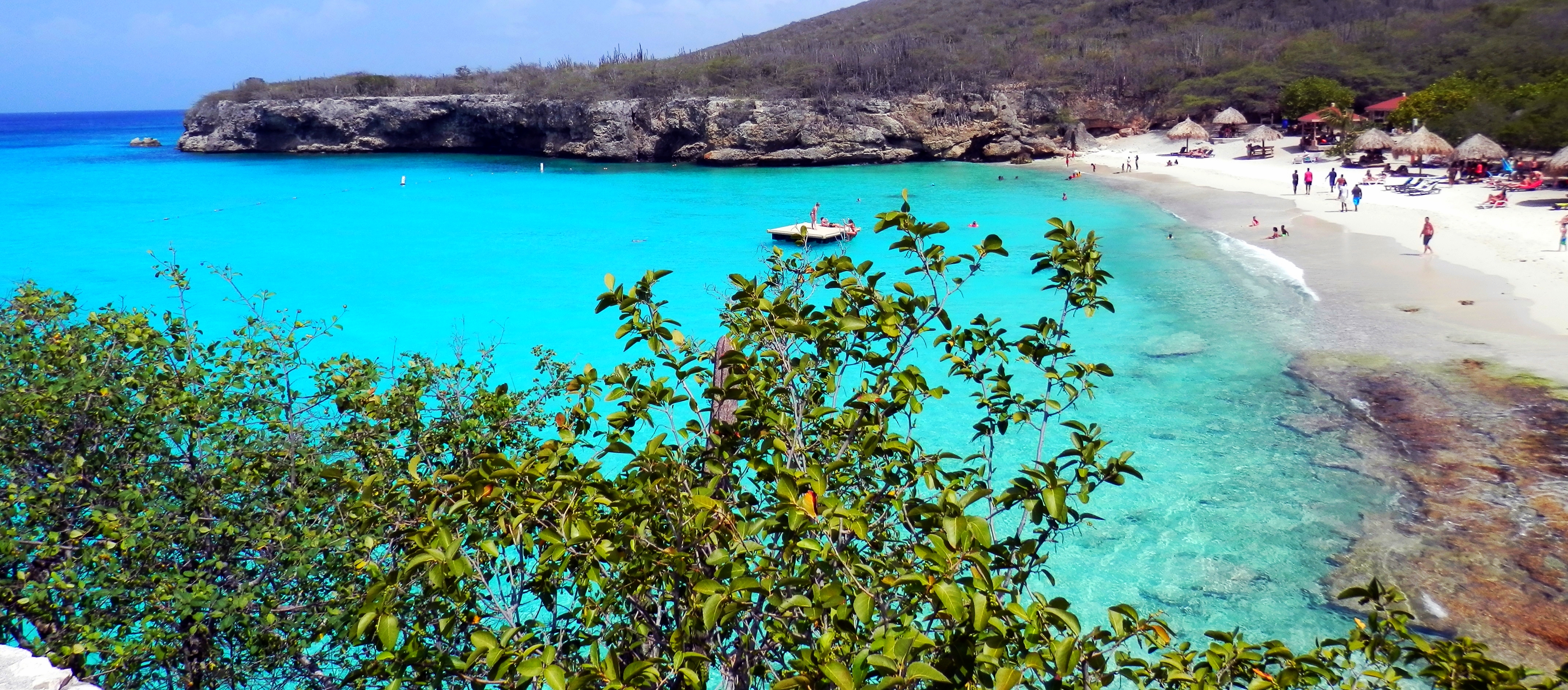 ---
The stunning island of Curaçao is the last letter in the Dutch ABC islands: Aruba, Bonaire and Curaçao. Every ABC island has its unique atmosphere. Aruba has the best beaches, Bonaire has the best diving spots and Curaçao is the biggest island of the ABC's and is certainly the most dynamic one. It has a bit of everything which makes it very pleasant. The capital, Willemstad, is the most colorful capital of the Caribbean with stunning architecture. Curaçao is a great mix of Venezuelan, Caribbean and Dutch influences. For me the biggest draw to come to Curaçao was to swim with dolphins; a childhood dream came true!
Facts
Capital: Willemstad
Language: Dutch, Papiamento, English, Spanish
Currency: Netherlands Antillean Guilder (1 €  ≅ 2 ANG)
Population: 160.000
Size: 444 km² (2 times Amsterdam)
Daylight saving time: No
Visas: Not required for most nationalities, others can enter with multi – entry Schengen visa
Best time to visit: Dec – May (dry season)
Visited: 2016 (part of Caribbean trip)
Willemstad
I reached Curaçao within 30 minutes by a small plane from Aruba. The flight is so short that it's basically only up and down, but the view out of the airplane window is beautiful. Although I liked Curaçao from the very first moment, it felt that my heart was still in Aruba. The island of Aruba literally blew me away with its paradise-like beaches, so I needed some time to open my heart again towards Curaçao, But after spending 4 days on Curaçao I had plenty of time to fall in love with this island as well!
I used the capital, Willemstad, as my base to explore the island. I had a very pleasant stay at the Ritz hostel which is just a short stroll from the center. Their pool really helps to make your stay worth it! Willemstad is famous for its colorful waterfront (Punda). The pastel-colored colonial architecture is just stunning. It's a great mix between Amsterdam and the Caribbean.
Another great thing to see here is the floating Queen Emma bridge. This bridge rotates every time when a ship has to come through, which is quite often. When the bridge is 'open' a small ferry brings you to the other side of the river until the bridge is accessible again.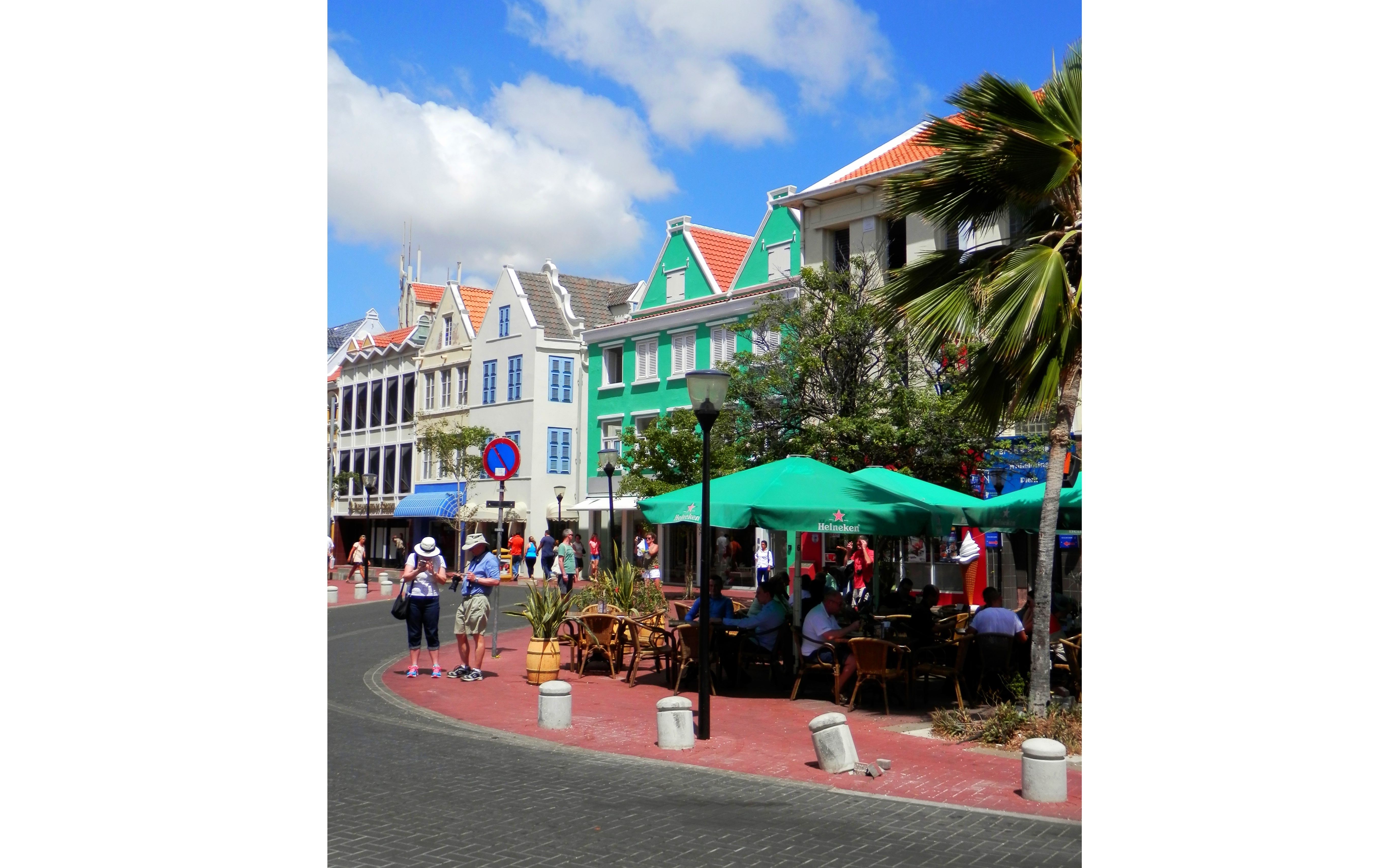 Willemstad is also a favorite dock among the cruise ships. Try to avoid exploring Willemstad when they let the cruise ship holiday makers off.
When you can't beat the heat anymore try checking out one of the many casinos. Music is important in the Caribbean and you will find throughout Willemstad many places or street corners with live music. Public transport can bring you anywhere on the island, but they are not so frequent. You've got the official buses and the unofficial minivans. The minivans are perfect, because they can stop anywhere you want along their route.
After making myself familiar with Willemstad it was time to fulfill my childhood dream!
Dolphin Academy
As long as I can remember I'm fascinated by the idea of swimming with dolphins. When I was still a young boy I saw many Dutch travel shows on TV where they were swimming with these fascinating animals. All these Dutch TV shows were filmed on Curaçao, so I promised myself that when I get the chance to swim with dolphins, it has to happen on Curaçao. And finally after all those years I woke up with the feeling that it's going to happen today!
I made my way to the Dolphin Academy which is stunningly located on a small bay next to Mambo beach. Here you can meet, snorkel or dive with dolphins. First we watched an acrobatic dolphin show where the dolphins were making all kind of awesome moves and jumps.
After the show it was time to jump into the water myself. The dolphins were already curiously waiting for me. Dolphins love to play and you've got plenty of time to let them dive down alongside you, pet and interact with them. Their skin feels a bit like wet rubber.
An up close experience with these animals can't be described in words. It's just phenomenal how these dolphins play so friendly together with humans.
Receiving a kiss and shaking hands with the dolphins are part of the program as well. Unforgettable! There are more animals who call the Dolphin Academy home, like flamingos, sea lions, sharks, turtles, rays, and many fishes.
Ok, I've to be honest, it ain't a cheap activity to do on Curaçao, but don't think about the price tag too much; it's an experience that lasts for a life time.
Beaches
The island is beautiful and there are many hidden beaches waiting for you to be explored. The best way to do some beach hopping is by renting a car for the day. For me the best beach was the small and rocky beach of the Grote Knip. The location is perfect with cliffs on both side. Together with a white sand beach and the famous turquoise water of the Caribbean Sea makes this a perfect place for a few hours.
Both Curaçao and Aruba are little gems in the Caribbean Sea and I highly recommend to combine them in your trip when you visit any of the ABC islands.
After Curaçao I flew off to Suriname!
Check out my Flickr album for more Curaçao pics!
---