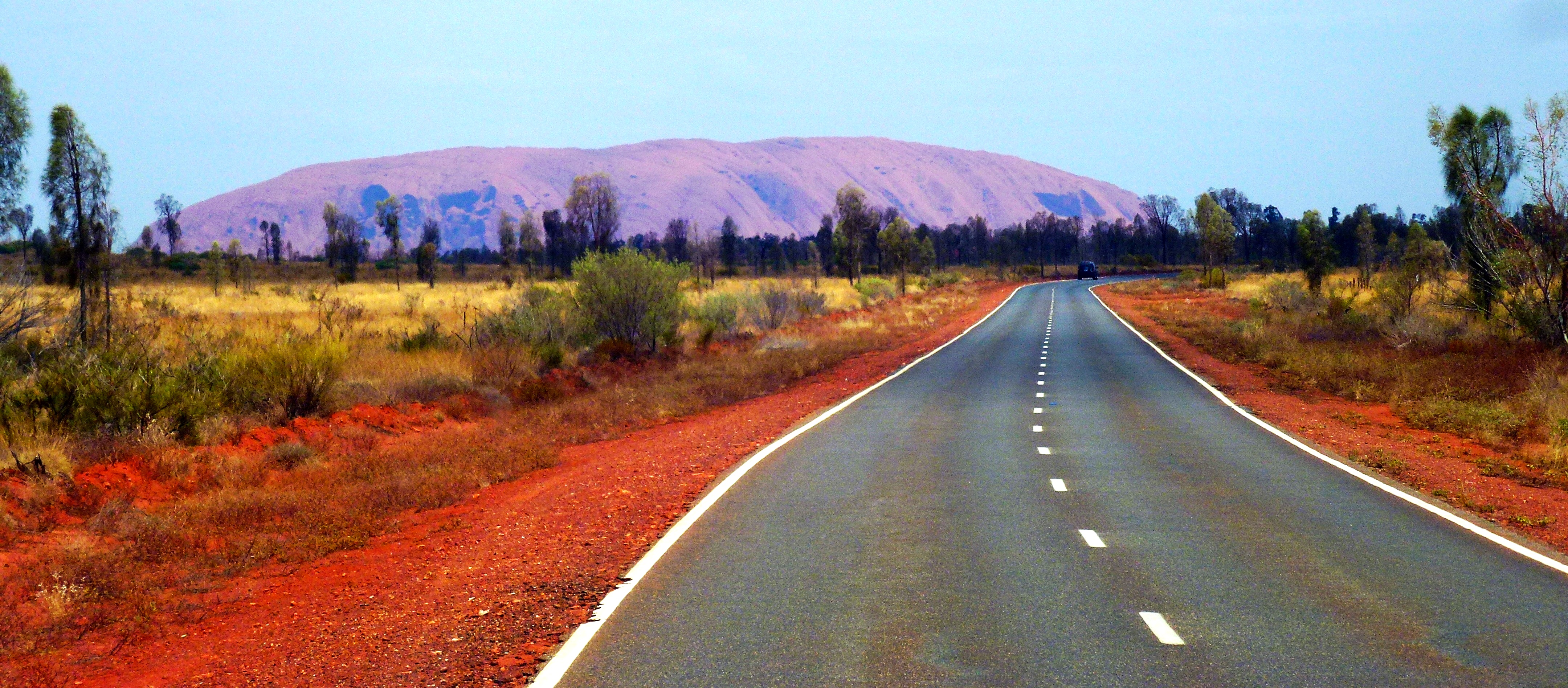 ---
The outback is one of the most unique and magical places of Australia. This vast, unpopulated and remote interior of Australia consists of desert landscapes and open spaces that seem to stretch on forever. The original inhabitants of Australia, the Aboriginal people, learned to live in the harsh Australian outback. The isolated town of Alice Springs is the gateway to the Red Centre and its most famous landmark Uluru; Australia's iconic red-rock monolith.
I stayed at Alice Lodge Backpackers which was a great place to stay with very helpful staff and a refreshing swimming pool, something you can really use in hot Alice Springs. After a half day of window shopping I chose to book a 3-day Uluru Camping Tour with Emu Run. It was a fantastic trip with one of the greatest tour guides ever. Ask for James!
Outback Camping Trip
First things first: Australia is big and the roads are long, very long. So be prepared to spend a lot of time on the road during this 3-day trip. You will cover more than 1000 km, but I can assure you every km is worth it. Ok, I must say that I was very lucky with my tour group which were a great bunch of people and off course James; our awesome Rockstar tour guide. The first day begins with the 450 km long road from Alice Springs to Uluru national park. The first glimpse of Uluru, or Ayers Rock, is just amazing. It's so big!
Finally we can get out of our minivan and walk around the base of Uluru. It's such an amazing feeling to be here. There's so much history and culture. You will find many inscriptions around the monolith made by the indigenous people of Australia. We covered a couple of kilometers of the base of Uluru where we saw many beautiful rock formations and empty waterfalls. The full base walk of Uluru is 10 km.
At the end of our walk the weather changed completely, and within a few hours we had to cover ourselves from the rain and big chunks of hail. Such weather changes are very rare in the outback and James told us that he had never experienced rain nor hail in the outback. A first time for everything!
Normally James would have brought us back to a viewpoint from where we could have watched the sunset over Uluru, but as the weather was so bad we skipped this. We continued to our campsite where we had a delicious bbq. Australian meat is so good! After we filled our stomach with kangaroo and ostrich meat it was time to get some rest. We slept in a swag (Aussie bedroll) under the countless stars. Magnificent!
The next day we headed to the Valley of the Winds for some excellent hiking. It's good we started early so it wasn't too hot yet. The landscape is just stunning, exactly how I imagined the outback would look like.
After our hike we enjoyed our well deserved lunch. Back into our air-conditioned minivan to our next campsite. And this campsite had a swimming pool which is a big plus! I didn't think twice and I jumped into the swimming pool, so refreshing! The evening was excellent; more bbq, sharing stories around the campfire and another night under the stars. Just perfect.
On our last day we hiked the Canyon Rim Walk which is part of the Kings Canyon. Certainly one of the most spectacular areas of the outback. The rock formations are just incredible.
I couldn't stop taking pictures, definitely the best part of the tour! The hikes are fairly easy, just bring plenty of water to stay hydrated. One of the most annoying things of the outback are the amount of flies. I've never been to a place with so many flies! The flies land on your face or they want to enter your nose or mouth. So annoying! You can buy fly net hats which saves you from continuously waving your hand in front of your face.
The first look into the Kings Canyon is just breathtaking. Such an amazing view! I was surprised that the canyon is so green.
After our last hike we jumped back into our minivan for the journey back to Alice Springs. Our tour guide James made sure we wouldn't get bored during our long drive back 'home'. His favorite phrase was -Happy Days!- which he used after almost every sentence. He just wanted to make sure we were still happy. It's now been 1.5 years since I took this tour and I notice that I'm also still using this phrase. Thanks James, lol!
One more meal in Alice Springs with the group before I flew to Cairns where I continued my Aussie trip down the east coast. Happy Days!
Check out my Flickr album for more Outback pics!
---