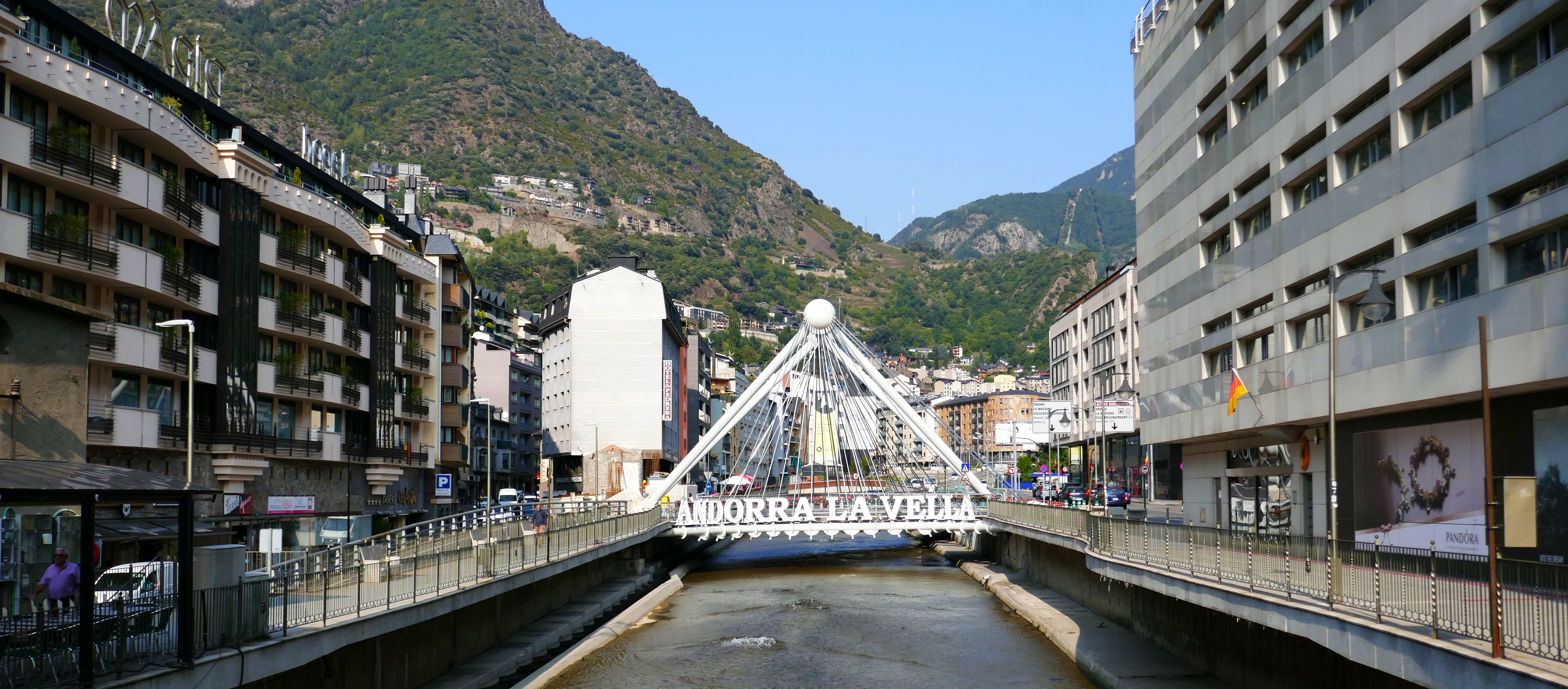 ---
Andorra is a mini-country wedged between France and Spain high in the Pyrenees mountains. It's known for its ski slopes, resort facilities and duty-free shopping. The summers in Andorra are great for hiking in the Pyrenees mountains.
Facts
Capital: Andorra la Vella
Language: Catalan, Spanish
Currency: Euro
Part of EU: No
Population: 72.000
Size: 467.6 km² (2 times Amsterdam)
Daylight saving time: Yes
Visas: Only Schengen visa required
Best time to visit: Apr – Oct (European spring till autumn) or Dec – April (ski season)
Visited: 2017
Andorra la Vella
Andorra doesn't have its own airport so you can only reach this tiny country by bus or with your own wheels. I took the bus from Barcelona to Andorra la Vella which is the capital of Andorra. The three hour bus ride is very scenic; plenty of stunning mountain views along the way. You can book your bus tickets here. If you're a fan of passport stamps then getting your stamp at the border is your only option. The tourist office in Andorra la Vella doesn't stamp your passport anymore. Andorra is not part of the EU so a border control is still in place at the Spain-Andorra border.
Andorra la Vella is a pleasant city for a stroll. The beautiful Pyrenees mountains are everywhere! Duty-free shopping is one of the main reasons why people visit Andorra, so if getting your bargain on electronics or designer clothes is your thing then Andorra la Vella is your place! It's a shoppers dream!
The city centre of Andorra la Vella is fairly small so you won't need a lot of time to see it 'all'. There are a few hills to climb in the city centre from where you will be rewarded with splendid views of the city and its surrounding mountains.
I had a few hours to kill before my bus was leaving. Relaxation was exactly what I needed so I visited the spa resort Caldea which is Europe's largest health spa. It's an innovative and original spa full of thermal pools, saunas and treatments. Its location also really helps to forget about your everyday stress. You can find more info about Caldea here.
Another good reason to visit Andorra is because of its cheap booze (duty-free!). A few more beers before I headed back to Barcelona.
Andorra la Vella is a pleasant and quiet town. Andorra is famous for its ski slopes so I'm sure Andorra will be busier during its winters.
Check out my Flickr album for more Andorra pics!
---