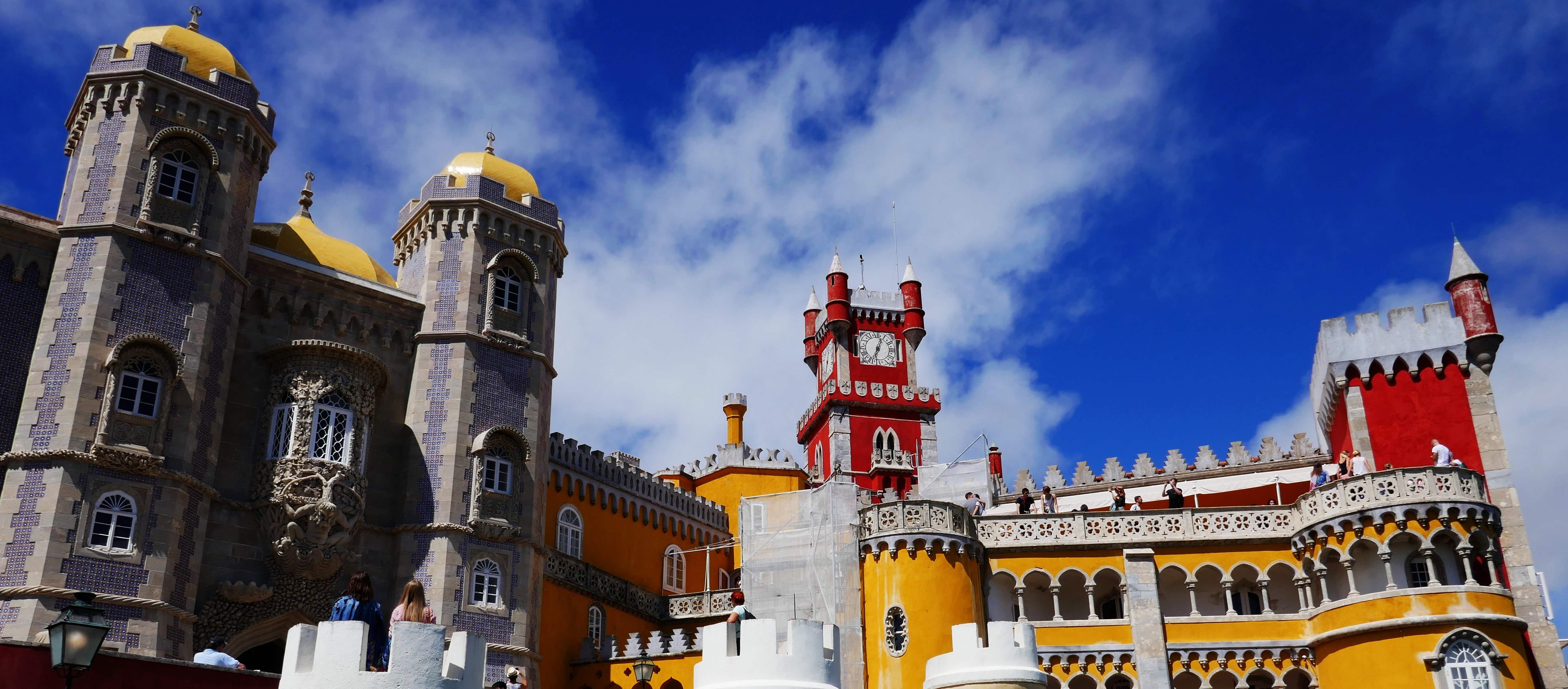 ---
Sintra is a Portuguese fairy tale town just 30km from Lisbon. The forested Sintra mountains are studded with pastel-colored villas, palaces and ruined castles. It's a very cool place which can easily be visited as a day trip from Lisbon. Read on to find out the best way to get to and around Sintra, how much the tickets cost, which sights you should not miss etc etc, so check it all out below!
Where is Sintra and how do you get to it?
Sintra lies 30km northwest of Lisbon. You can reach this picturesque town in 40min by train from Lisbon's Rossio station. The major sights of Sintra can all be found above town in the hills. Once you get to Sintra you have a few options to get around town and into the hills:
A) Bus 434; it connects the train station (massive queue), the historic center and the hills for the Pena palace and castle. You can get a hop-on hop-off ticket as well.
B) On foot; the historic center (where you can find the national palace) can be reached in 25min on foot from the train station. From there it's all uphill to the other major sights (Pena palace, castle, etc) which are a bit far out. I would advise to take the bus to these sights.
C) Taxi or guided tour; plenty to choose from once you get off the train!
How much are the tickets and where do you buy them?
The major sights will cost you (adults):
Pena Palace: €13.30 (including interior)
National Palace: €9.50
Moorish Castle: €7.60
Quinta da Regaleira: €6.00
Combination tickets are available as well.
You can buy the tickets in a few ways:
A) You can buy the tickets right outside of each sight. Not recommended, there are crazy queues.
B) You can buy the tickets online here.
C) You can buy the tickets at the tourist information shop in town (opposite the bus stop at the train station).
How much time do you need?
If you want to visit all of the palaces, castles, gardens and spend a bit of time in town you really need at least 2 days. My time was limited to 1 day, so I only visited my personal favorites which are Pena Palace, Quinta da Regaleira and the historic center.
What to see?
The historic center of Sintra is cool, but what really makes it are all the palaces, gardens and castles scattered around the hills. Let me show you my favorites:
Pena Palace
Sintra's or maybe even Portugal's most famous castle is the colorful Palace of Pena. This is probably one of the best castles I've ever visited. It's so beautiful, cool, colorful and funky! It looks like something out of Disneyland, it's awesome. Pena Palace is the last stop of bus 434.
Walking around the castle grounds is just magical. You can go inside the castle and view its interior, but be prepared for another massive queue.
Quinta da Regaleira
The gardens of the Quinta da Regaleira are just a short stroll from the historic center. The gardens and grand house are fabulous, but the real attraction here are the hidden tunnels and inverted towers. Just brilliant.
Quinta da Regaleira is a magical place and should not be missed.
National Palace
The national palace can be found in the heart of the historic centre. It's the best-preserved medieval royal palace of Portugal.
For more information about Sintra and its sights follow this link.
Tip: Lisbon has become a very popular tourist destination and Sintra is the main day trip from Lisbon, which means the town gets very busy. Get your tickets in advance and plan your trip in spring or autumn.
Sintra is beautiful and a must for anyone visiting Lisbon. Safe travels!
Check out my Flickr album for more Sintra pics!